Compass Precision Acquires Fourth Operating Company
CHARLOTTE, NC – August 28, 2020 – Compass Precision, LLC, a manufacturer of custom, close-tolerance metal components for demanding applications based in Charlotte, NC, announced Friday that it has acquired nearby Gray Manufacturing Technologies, LLC.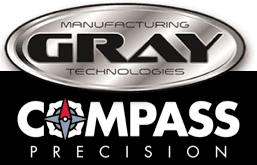 "When we formed Compass Precision 10 months ago, our plan was to grow aggressively, both organically and via acquisition," asserted Gary Holcomb, Compass's President and CEO. "Gray Manufacturing Technologies is a well-run machine shop experiencing rapid growth serving a select group of space, aerospace and defense customers. They are a perfect fit for us."
Based just outside Charlotte in Denver, NC, Gray Manufacturing is home to state-of-the-art equipment and a highly-skilled workforce. Its abundance of 5-axis machines give Gray Manufacturing a tremendous amount of production capabilities through lights-out manufacturing and automation. Gray Manufacturing is also a leader in the industry with its metrology lab. Gray is ISO9001 and AS9001D certified.
"I am delighted to be joining Compass," said Jerry Soots, Gray Manufacturing's general manager, who will become president of Gray Manufacturing Technologies. "Compass's strategy is based on having autonomous companies operating under a corporate umbrella providing resources for investment and growth. I was sold on that."
The addition of Gray Manufacturing gives Compass a total of 11 sophisticated 5-axis machining centers, the core machine used for manufacturing complicated metal geometries required for many space, aerospace, medical, and power generation requirements. All of these machines are equipped with automation to enable production to continue long after the last employees have gone home for the day.
"We are very pleased to add Gray Manufacturing to our collection of operating companies," explained Compass Vice President & CFO Paul Wilhelm. "They checked every box on our list of attributes for an ideal acquisition." 
Gray Manufacturing will become the fourth operating company under the Compass Precision umbrella, complementing three existing firms. Main Street Capital Holdings, LLC, a Pittsburgh-based private equity firm, purchased Advanced Machining & Tooling, LLC, Quality Products & Machine, LLC and Tri-Tec Industries, LLC in October 2019 and officially formed Compass Precision, LLC shortly thereafter. Together, the four companies, all based in the Charlotte area, service a diversified group of blue-chip customers in the aerospace & defense, space, power generation, medical, telecommunications, and industrial automation industries.